The American Society for Virology Archive serves both to collect and preserve official legal and historical material directly relevant to the establishment and maintenance of the Society, and to store and make available to the public material of general historical interest in the discipline of virology.
Founding of the American Society for Virology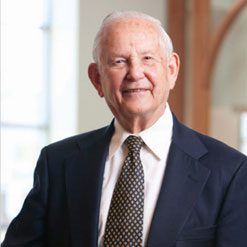 The ASV was founded in 1981 under the leadership of Dr. Wolfgang K. Joklik following fifteen years of discussion by a small group of virologists.  The first annual meeting of the ASV was held in 1982 at Cornell in Ithaca.
The founding of the ASV was officially documented in a 2006 publication in Virology, entitled How the American Society for Virology was Founded, by Wolfang K. Joklik and Sidney E. Grossberg.  This article provides a first-hand summary of the founding and early history of the Society.
From his own files, Dr. Frederick Murphy has compiled documents relating to the founding of ASV including:
The Virology article, "How the American Society for Virology was founded (cited above)
An editorial in Archives of Virology describing the beginnings of the International Congresses of Virology
Original documents from the founding of the ASV including correspondence and business meeting minutes
The program from the first ASV meeting
Official Archive
The official ASV archive has both a legal and a historical purpose.  Legally, as a 501(c)3 tax-exempt organization, the Society is required to keep all business meeting minutes and treasurer's reports.  These are maintained in the archive and updated on a regular basis.  The archive also contains correspondence and records relating to the establishment of the Society, plus copies of the programs and abstracts for all of the annual meetings since the founding of the Society.
The official ASV archive is housed at the Bancroft Library in Berkeley, California.  It was established in 2004 by the then Secretary-Treasurer Dr. Sidney Grossberg.  At the time of its creation, Dr. Grossberg provided the Bancroft library with documents dating from the creation of the Society in 1984 up to 2004.  In 2009 Dr. Wolfgang Joklik, founder of the Society, provided materials from his personal files to the Archive.  Dr. Sondra Schlessinger supplemented the archive with additional materials during her tenure as Chair of the Archives Committee.  Anyone can view the archive by contacting the Bancroft library, and the History and Archives Committee is attempting to provide on-line access to some of the more interesting documents of historical interest.
For more information or to make contributions to the archive, contact Lorena Passarelli, Chair of the History and Archives Committee.