ASV is committed to having the annual meeting accessible to all interested virologists. For ASV2020, ASV has contracted with KiddieCorp (kiddiecorp.com), a national firm that has provided onsite daycare for meetings of national organizations since 1986.* Care will be in a conference room in the Hilton Fort Collins; children 6 months – 15 years old can be accommodated.
Registration will be handled by logging in to the KiddieCorp site. Registration and further information from KiddieCorp.
Parents will be expected to pay $10/hr per child. They will need to commit to the specific hours prior to April 10, 2020. Parents will be able to sign up by the hour. Nonrefundable billing by KiddieCorp will take place on or after April 17, 2020.
Note:  If there are not enough children signed up to make this financially feasible, ASV will cancel the contract with KiddieCorp prior to April 17, 2020, notifying those parents signed up; and there will be no charge to parents. Parents who had signed up with KiddieCorp would have the option of cancelling their ASV2020 meeting registration with Colorado State if necessary at no charge if they notify CSU by May 1, 2019. They will also be able to submit/amend an ASVCares grant application past the normal ASVCares deadline.
PROPOSED HOURS (hours may be reduced, depending on demand, with notification to parents prior to April 17, 2020 if there are reductions).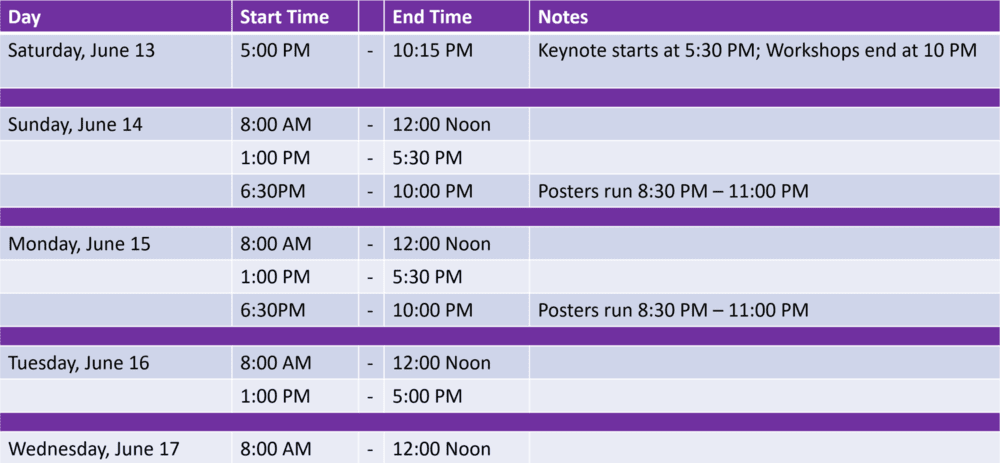 Note: Parents will be responsible for providing food for their children at lunch and dinner. There are a restaurant and cafe in the hotel; there are a number of restaurants nearby (e.g., Chuck E. Cheese, Taco Bell, Panino's Italian) (See map on Lodging page of ASV2020.com). Parents can also take their children to the dining halls, where meeting registrants will have lunches and dinners; parents would pay-as-you-go for children's meals individually at the dining halls. Snacks will be provided, or parents can also provide them for their children.
Can I apply for and ASVCares grant for this childcare?
For those using the KiddieCorp onsite daycare program, parents can apply for travel funds for their children using the ASVCares application site and appropriate budget justification. However, because the costs of onsite care through KiddieCorp are already partially subsidized by ASV, the hourly costs ($10/hr/child) will not be eligible for ASVCares funding.
Note there are also many links on the KiddieCorp site (Parents Guide, Parent FAQ, etc.) kiddiecorp.com
*American Academy of Pediatrics (since 1991), American Postal Workers Union (1992), Ecological Society of America (2006), Geological Society of America (2006). Contact information available on request to asv@asv.org.
NEED MORE INFORMATION? See the KiddieCorp registration link or contact them:
KiddieCorp is always available to answer any questions. Feel free to contact KiddieCorp by phone at (858) 455-1718 or by e-mail at info@kiddiecorp.com.