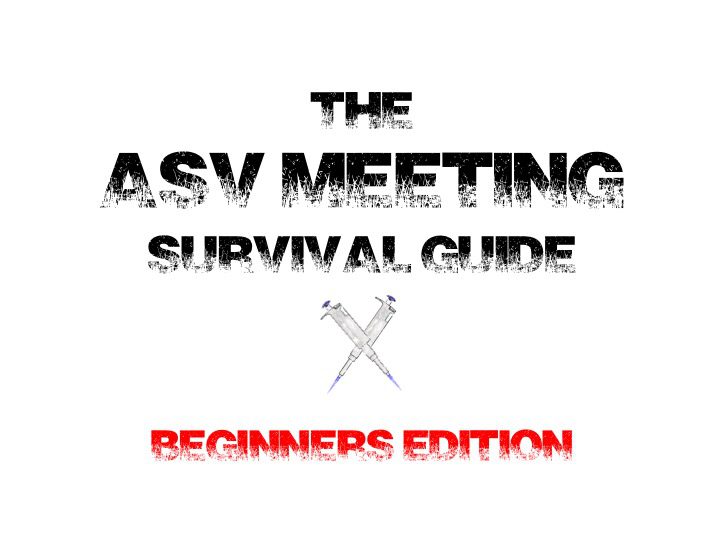 Kaitlin Davis(1), Victoria Meliopoulos(2), and Matthew Evans(3)
(1)Department of Medical Microbiology and Immunology, University of Wisconsin-Madison, Madison, WI;
(2)Department of Infectious Diseases, St. Jude Children's Research Hospital, Memphis, TN;
(3) Department of Microbiology, Icahn School of Medicine at Mount Sinai, New York, NY
(Updated for 2020)
The American Society for Virology (ASV) is a wonderful community that brings together virologists from all areas of the field. As a result, the annual meetings are rich in diverse scientific offerings and they can be quite large (sometimes over 1600 attendees!). While these meetings may not quite rival some of the goliath meetings out there (think ASM, American Society for Cell Biology, etc.), they are still big enough that seeing and attending everything is difficult. With a little planning, and the help of the ASV meeting mobile app, you can make sure to get the most out of attending the ASV annual meeting.
Before you go:
About a month before the meeting, you will receive an email containing a link and instructions to access to the meeting program and workshop/poster abstracts. You can do this in two ways: through the ASV mobile app (available through Crowd Compass) or by downloading the PDF version of the program. Familiarize yourself with what's in the PDF and/or app and how to access them ahead of time. Although the meeting program PDF will contain scheduling information, at this point it will no longer be 100% accurate. In addition to finishing touches to the program, unforeseen events can lead to unanticipated schedule and room changes. The mobile app is updated regularly to reflect any changes, and is available for iPhone, Android, and laptops/desktops. Log in and you're ready to go.
The app is free and relatively easy to use, but there are a couple of things to know about it. First and foremost, it will significantly drain the battery on your mobile device. When the app is not in use, close it out completely. It's probably a good idea to bring your charging cable with a second battery or wall adaptor. When using the app, it can help to put your phone in airplane mode and only go online for periodic updates or when using the maps. The app contains the meeting program, the room locations, information on meals and social events, and you can even construct your own schedule of the talks/posters you want to see.
Spend some time on the app a week or so before the meeting, planning your schedule. ASV is jam-packed with workshops occurring concurrently, and there's no way to make it to everything. You may need to jump from workshop to workshop to catch every talk you want to see. Having a plan of attack maximizes the chance you'll be able to see and to participate in everything you want. You will not have time to plan your schedule at the meeting, we promise! Although ASV tries to maintain a tight schedule to accommodate workshop hopping, be aware that sometimes workshops can run a little ahead or behind schedule, and it may take you some time to walk to another workshop. If you're hoping to attend consecutive talks in two different buildings, you will likely miss part of one or the other in transit. It's ok to come in late or leave early, just remember to be mindful if you're entering or exiting a meeting room while a workshop is in session.
ASV is a large, eventful, and schedule-packed meeting; don't feel pressure to attend everything! There are a few types of events on the schedule:
Plenary lectures: These take place each morning of the meeting, and cover topical themes in current virology. Speakers are selected by the ASV President and cover the speaker's work in depth. There is no concurrent scheduling, as these are intended to be of interest to all attendees, and are a great way to learn about field outside of your own area. One morning session will also feature talks from the Ann Palmenberg Awardees: exceptional junior investigators who have made significant contributions to virology.
State of the Art Lectures: These lectures take place at the beginning of select Workshop sessions and feature top-notch scientists presenting exciting work that expands a field of interest. These talks will cover the speaker's work in depth, like the morning Plenary sessions, but take place concurrently with other workshop sessions. These may be more specialized than morning sessions, and can be a great place to learn about advances in a given field. For more information on what these talks may cover, it can be helpful to check out the speaker's personal lab webpage or glance over their recent publications.

Workshop sessions: These are the bread-and-butter talks of ASV. Most are 12 minutes, with the exception of this year's new blitz talks, and cover broad areas across virology. At any given time, multiple workshop talks with be taking place in different rooms and buildings, so feel free to jump between sessions to catch talks covering your favorite topics. Use these talks to learn about what your peers are working on, to identify new collaborators or mentors, or to learn about something entirely new. Younger scientists, such as students and postdocs, are more likely to benefit from attending most of the talks and posters that are related to their own research interests.

Poster sessions: Poster presentations are divided into two sessions and coincide with social networking time. Take advantage of this opportunity to meet one-on-one with other scientists, to ask questions, and get to know other meeting attendees.

Special events: throughout the meeting, keep any eye out for events taking place relevant to special interests, including a live taping of This Week in Virology (TWiV), lunch time discussion tables (if you signed up during registration), workshops run by the Communications and Education & Career Development Committees, Councilor for Virology Trainee Office Hours, Careers in Industry Workshop, and Assistant Professor Bootcamp. These events may be concurrent with other scheduling, so make sure to prioritize your favorites.

Welcome events: on the first day of the meeting, before and after the Keynote Address, attend the welcome reception or the post-workshop social event, respectively to see old friends and meet new ones, and be sure to stop by a special welcome area to bring together our Travel Award recipients and first time ASV attendees!
This year's campus:
ASV typically rotates among university campuses, and each one is unique. ASV 2020 will be held at the Colorado State University in Fort Collins, Colorado. Many events will be focused around the campus student center and the football stadium. Events held on campus will either take place in the same building, or within a short 5-10 minute walk, including distance to the campus dorms. The mobile app will provide you with a basic map of the campus. Look for signs pointing the way to specific workshop rooms and local volunteers to help guide you. This year, ASV will be offering on-site childcare (through KiddieCorp) as well as assistance on a need-based basis to support child and dependent care through ASVCares Awards. Additional assistance for those needing special accommodations is also available through the conference organizers and local hosts.
Networking:
One of the most important parts of ASV is networking. This is a terrific chance to meet other virologists at all career levels. We are all there because we are excited about viruses and science in general. Each person's particular career level may impact their networking goals and how they pursue them.
Ask questions during and after talks and posters! Most people are happy to stick around and talk (what scientist doesn't want to talk about their work?)! Make sure to check out the bulletin board for job postings or other contact information. Coffee breaks and the social tent are also great times to meet people. Don't be shy, especially on the ASV dance floor!
The American Society for Virology (ASV) is committed to maintaining an environment that is free from all forms of discrimination and harassment. ASV will not tolerate discrimination or harassment of any kind at ASV-sponsored or -associated events. For more information, see the anti-discrimination and anti-harassment policy available at asv.org.